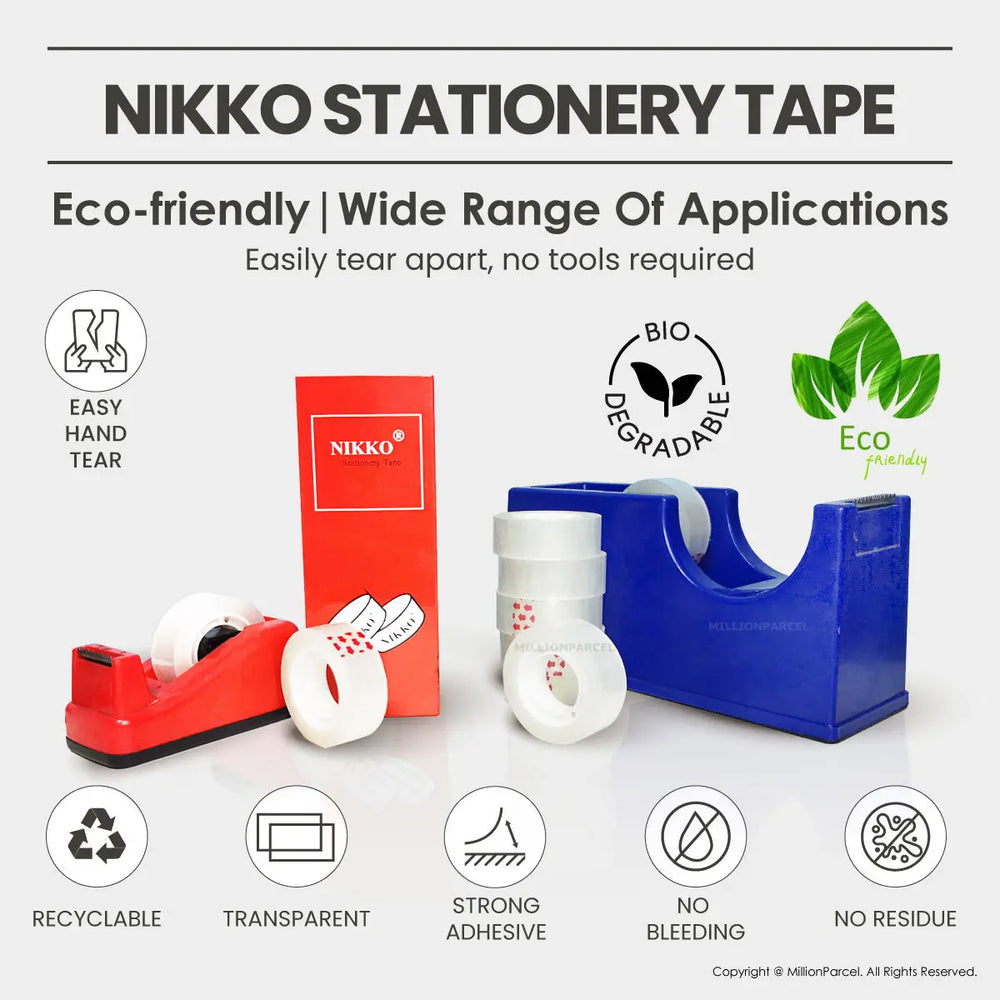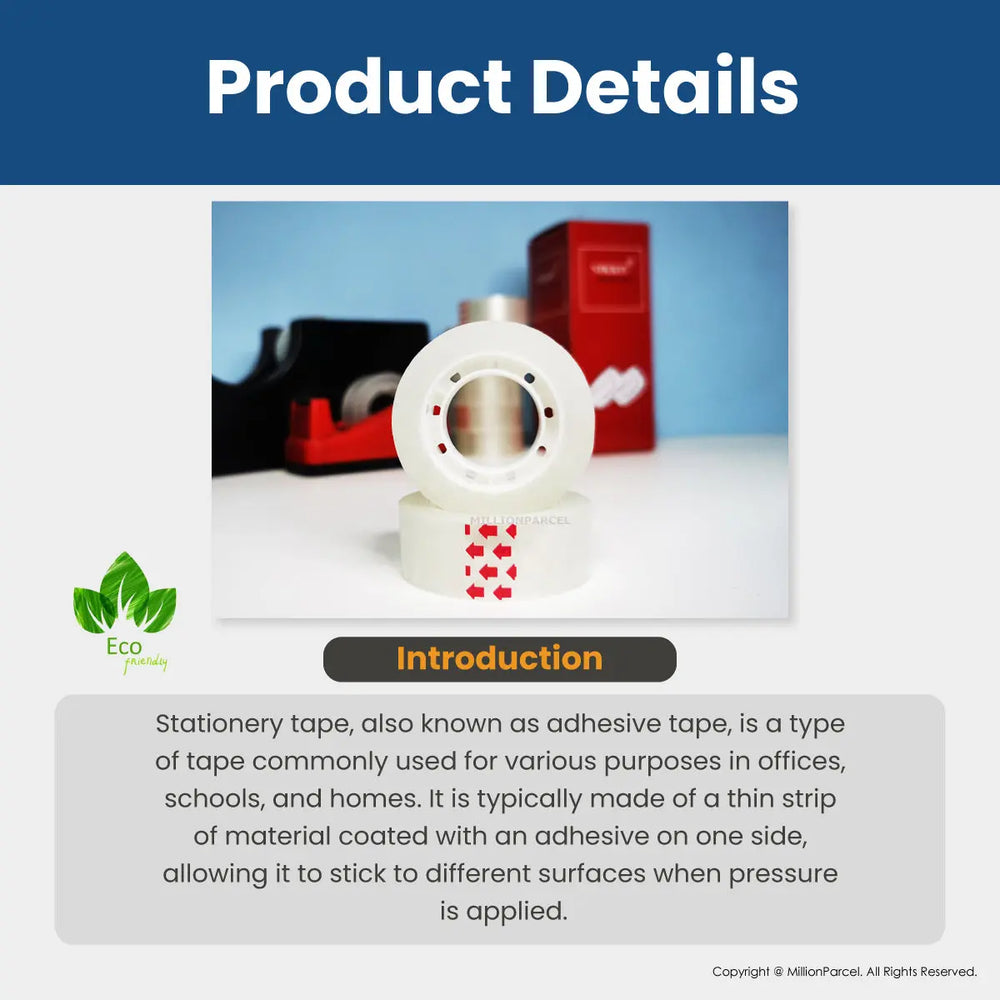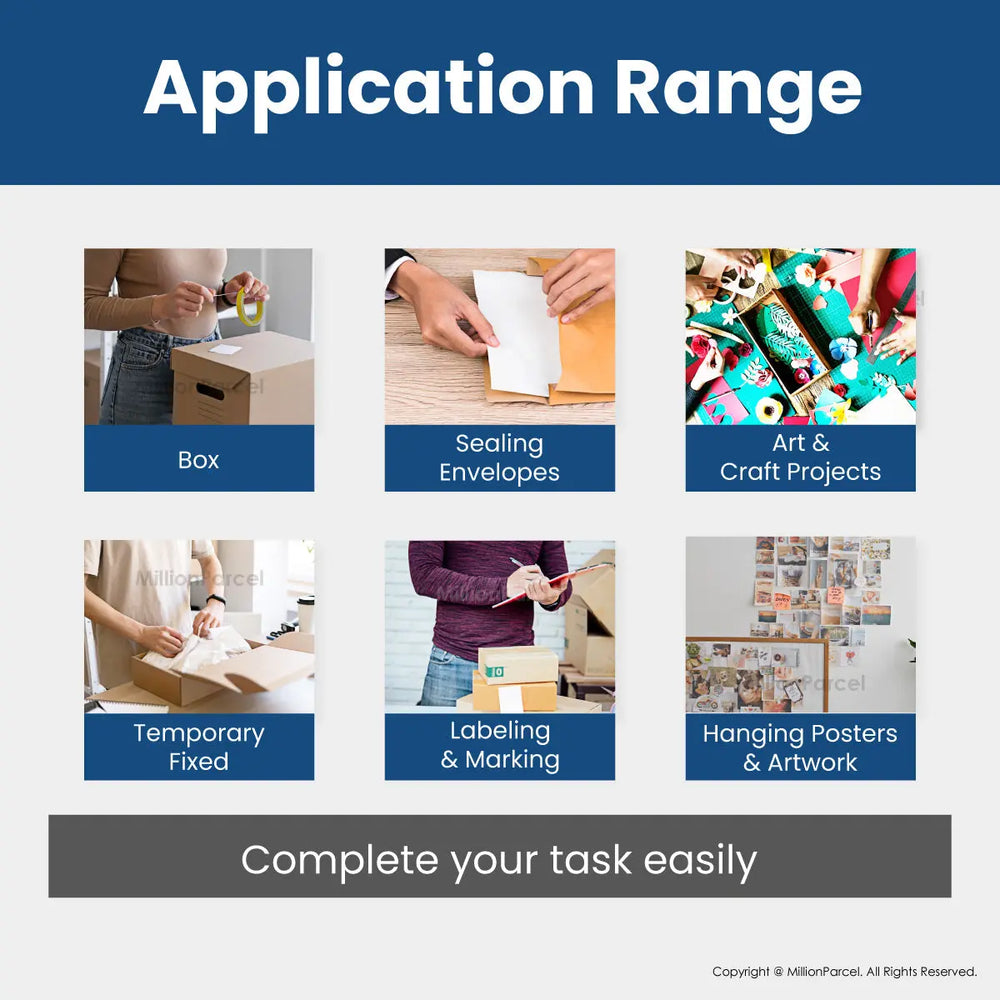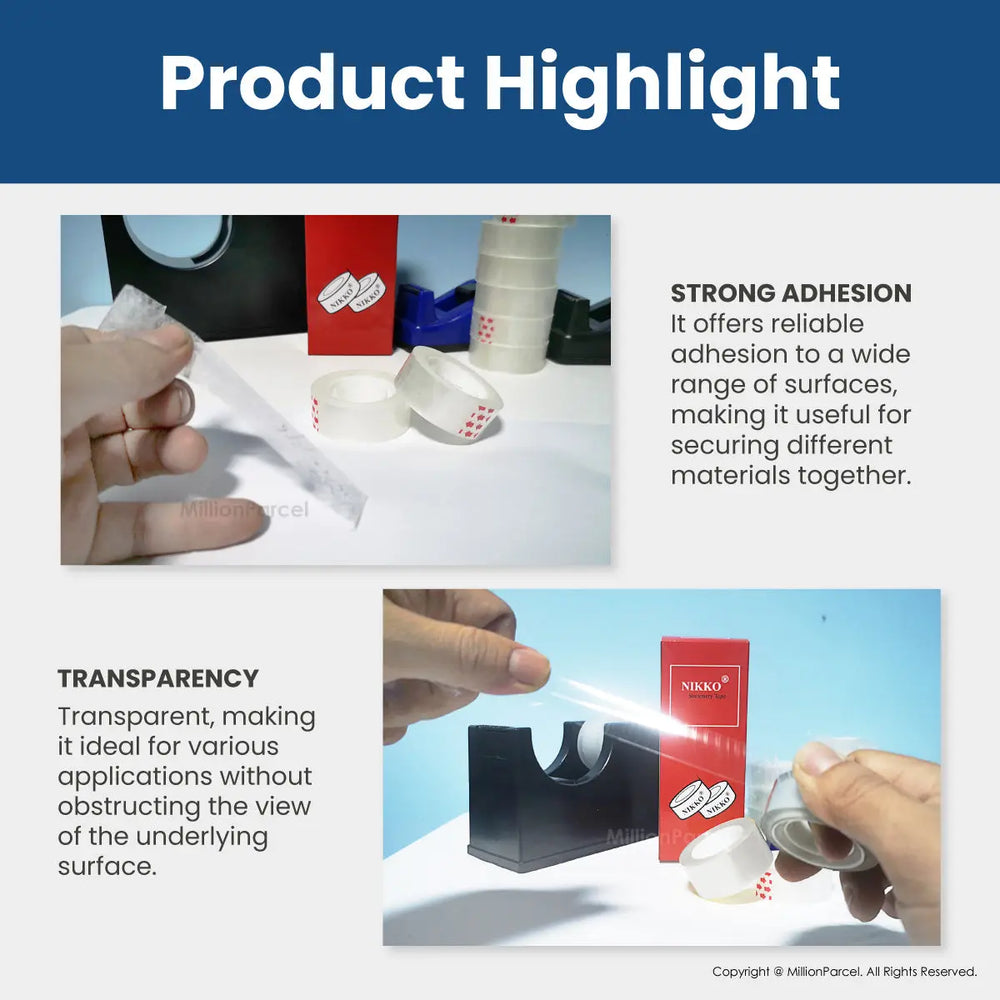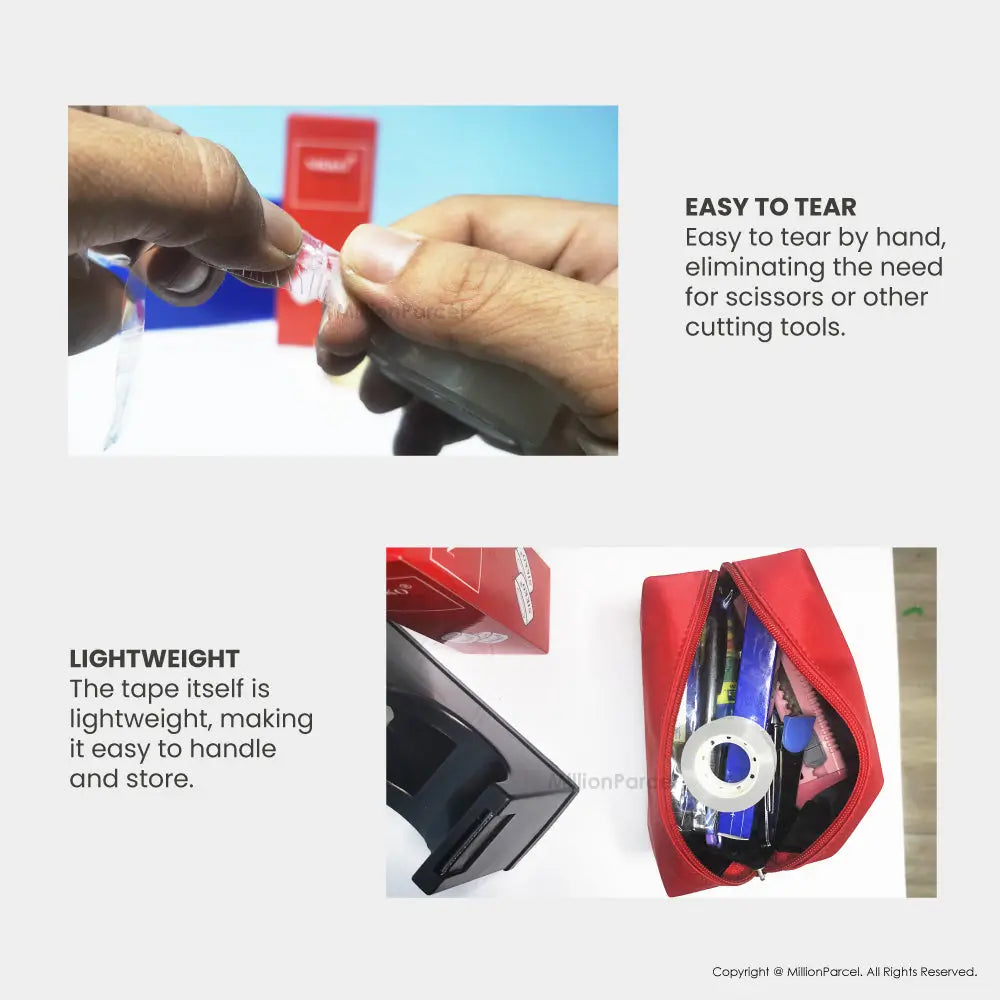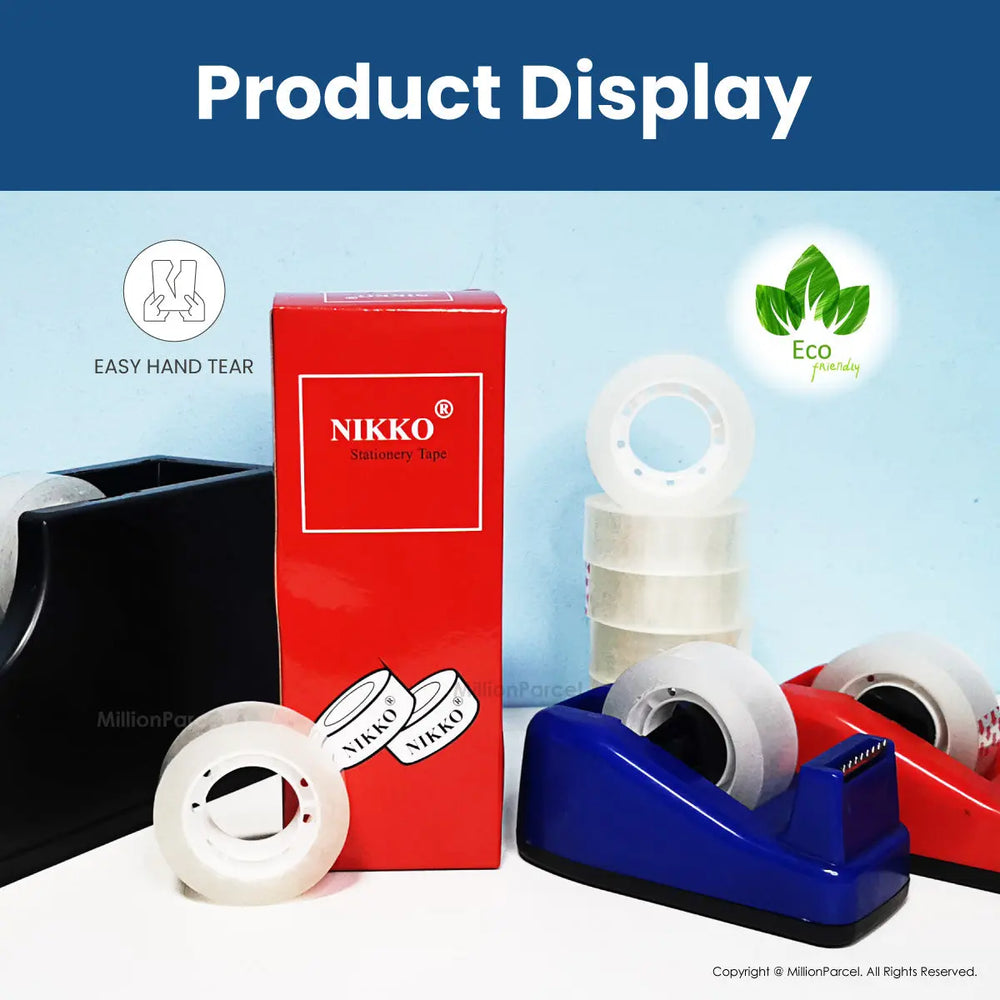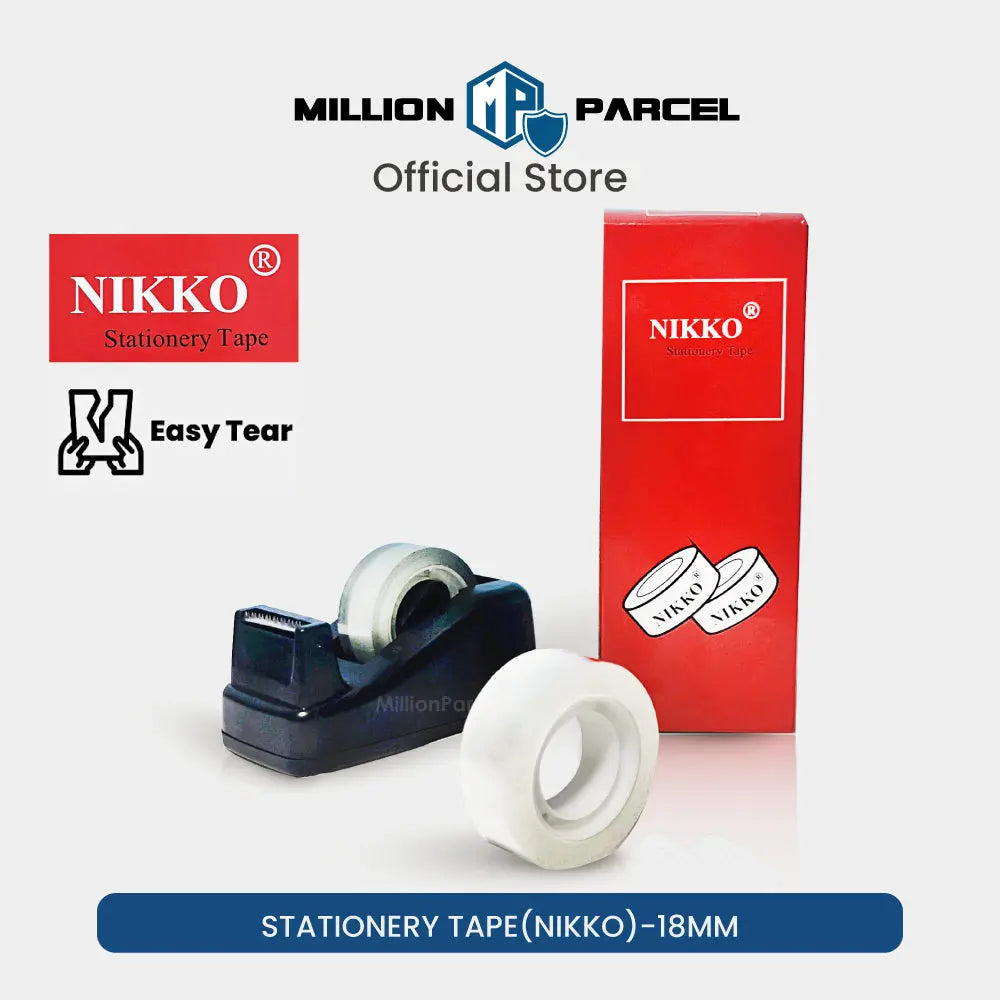 Nikko Stationery Tape - MillionParcel
---
Suggestion Qty (packing box)
18mm x 25m = 8roll / box
24mm x 25m = 6roll / box

Introducing Nikko Stationery Tape – Your Convenient Companion for Everyday Tasks!
Are you tired of struggling with tape dispensers or fumbling for scissors to cut through tape? Look no further! Nikko Stationery Tape is here to make your life easier with its innovative design and convenient tear-by-hand feature. Available in two versatile sizes, 18mm x 25m and 24mm x 25m, this tape is a must-have tool for your home, office, or school.
Key Features:
✔️Easy Tear by Hand: Say goodbye to the frustration of searching for scissors or a dispenser. Nikko Stationery Tape is designed to tear effortlessly by hand, making it quick and hassle-free to use whenever you need it.
✔️Two Sizes Available: Whether you need to seal an envelope, attach documents, or get creative with crafting projects, Nikko Stationery Tape comes in two convenient sizes – 18mm and 24mm widths, both with 25 meters of tape. Choose the size that best suits your needs.
✔️Versatile Usage: From wrapping gifts to labeling boxes, from fixing torn pages to creating art projects, Nikko Stationery Tape is a versatile companion that adapts to various tasks seamlessly.
✔️High-Quality Adhesive: Don't let your important documents or creations fall apart. Nikko Stationery Tape boasts a high-quality adhesive that ensures a reliable bond on paper, cardboard, and other surfaces.
✔️Crystal Clear: The tape is transparent, allowing you to neatly seal envelopes, affix labels, or repair documents without obscuring any content.
✔️Durable and Long-Lasting: Nikko Stationery Tape is designed to withstand daily wear and tear, ensuring that your projects and documents remain intact over time.
Whether you're a student, professional, or crafting enthusiast, Nikko Stationery Tape is an essential tool that simplifies your tasks and adds convenience to your daily routine. Say goodbye to the struggle of traditional tape dispensers and welcome the ease of tearing by hand. Make Nikko Stationery Tape your go-to choice for all your adhesive needs.