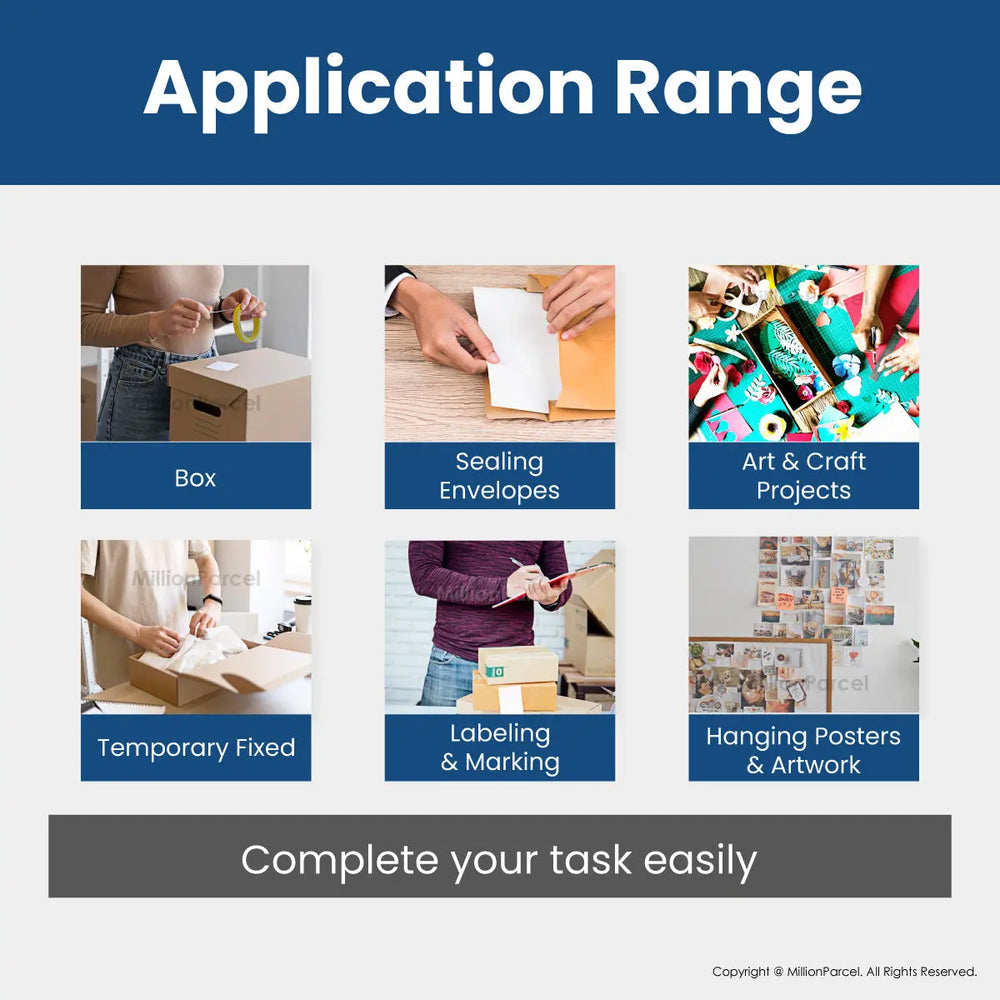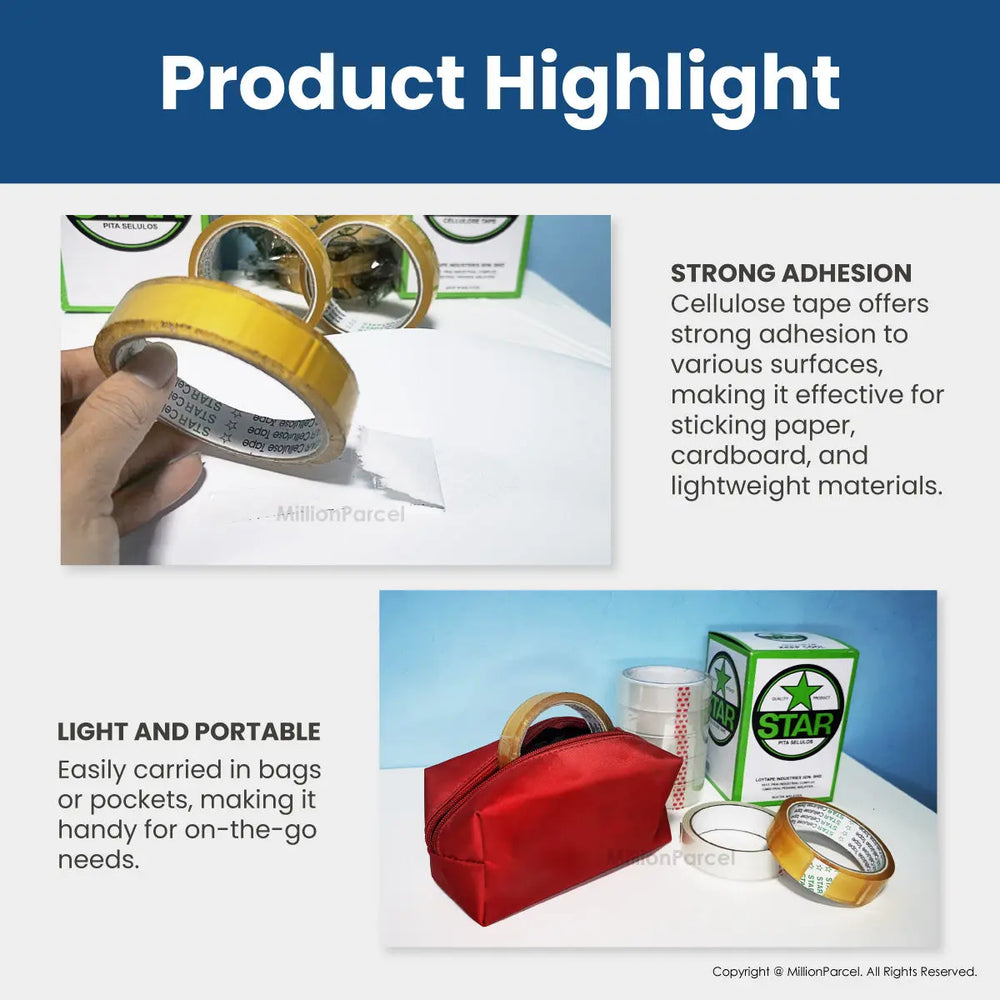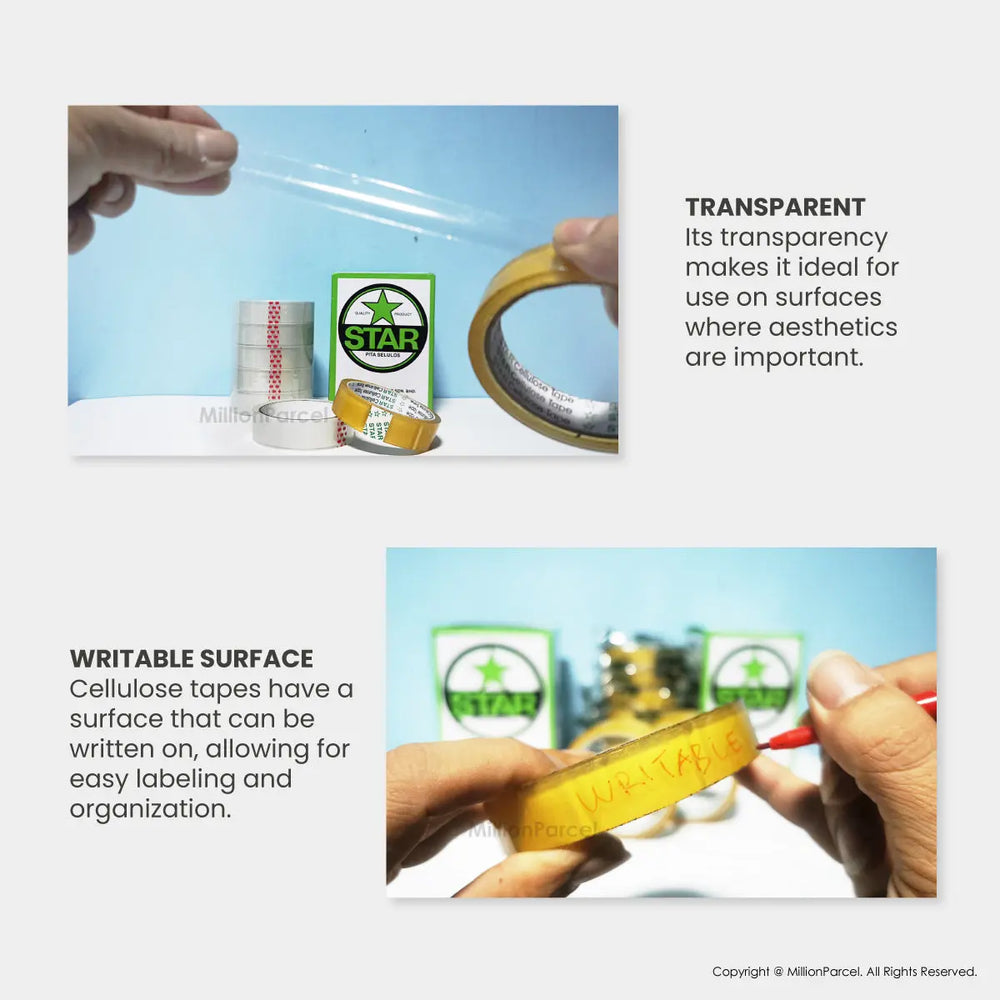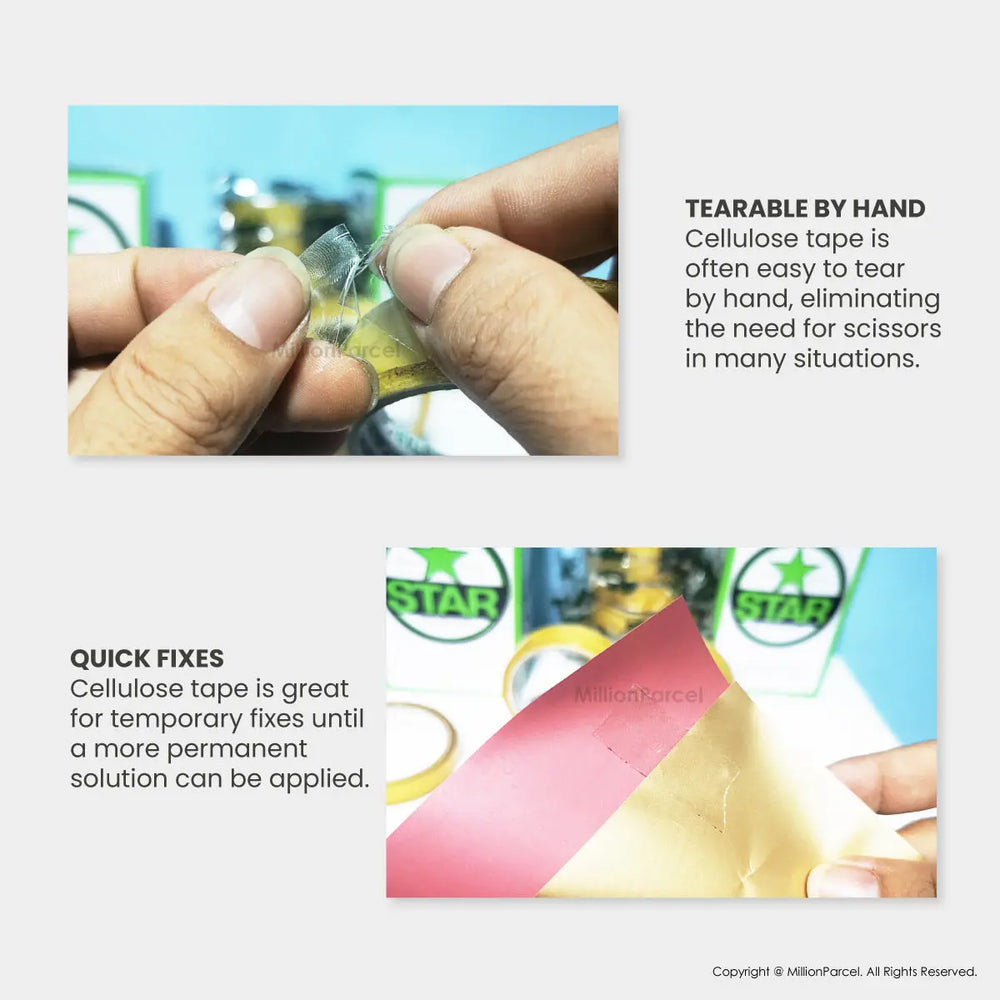 STAR Cellulose Tape - MillionParcel
---
STAR Cellulose Tape: Elevate Your Bonding Experience
In a world where connections matter more than ever, rely on STAR Cellulose Tape to bridge gaps, strengthen bonds, and hold things together. STAR Cellulose Tape is not just any ordinary adhesive tape; it's a testament to innovation, reliability, and versatility. Whether you're sealing envelopes, crafting, packaging, or repairing, STAR Cellulose Tape promises to be your trusted companion.
Key Features:
Unrivaled Adhesion: STAR Cellulose Tape boasts exceptional adhesion properties, ensuring a reliable and long-lasting bond. No more worries about things falling apart – our tape holds strong, even in challenging conditions.

Eco-Friendly: We believe in sustainability. STAR Cellulose Tape is made from renewable and biodegradable materials, primarily cellulose derived from plants. Feel good about using a tape that minimizes its impact on the environment.

Crystal Clear: Our tape is designed to be virtually invisible when applied, allowing your projects to shine without the distraction of bulky tape. It's perfect for gift-wrapping, presentations, and any application where aesthetics matter.

Easy to Use: The smooth dispensing mechanism ensures hassle-free application, preventing snags or tears. It's easy to handle, making it suitable for both professional and personal use.

Wide Range of Applications: From office tasks to creative projects, STAR Cellulose Tape adapts to your needs. It's suitable for paper, cardboard, fabric, and more, making it an essential tool in your toolkit.

Variety of Sizes: Whether you need a small roll for your desk or a larger one for industrial purposes, STAR Cellulose Tape comes in a range of sizes to meet your requirements.
Why Choose STAR Cellulose Tape?
STAR Cellulose Tape isn't just a product; it's a commitment to quality, sustainability, and customer satisfaction. When you choose STAR, you're choosing a tape that not only performs flawlessly but also aligns with your values. Our tape represents a bridge between innovation and tradition, holding true to the time-tested idea of adhesive bonds while embracing cutting-edge materials and techniques.
When you think of bonding, think of STAR Cellulose Tape – your partner in connectivity, creativity, and cohesion. Trust in the strength of the bond, and let STAR be the link that unites your world.





This product is rated 5.0 of 5.0 stars.
It has received 1 review.
Worth the price and easily use.